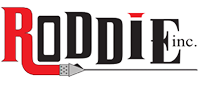 Roddie Underground is an original equipment manufacturer based in Northwest Montana.
Roddie Underground specializes in the design and manufacture of trenchless pipe bursting equipment and horizontal directional drills. Roddie Underground began as an underground contractor in San Jose, California. The company was then called H&H Company, H&H developed the first static pipe bursting machine on a project for Siemens Corporation in the early 1990's. Since then this machine evolved into what Roddie manufactures today.
In 2011, Roddie Underground opened its doors to the world as a manufacturer of trenchless equipment.
Roddie continues to develop their cutting edge proprietary tools for the trenchless industry. Roddie's goal is to help contractors increase their profit margins as it did for Roddie Underground and Montana Trenchless contracting divisions in California and Montana.
One of our business goals at Roddie Inc. is to provide the most reliable trenchless equipment available. Over the years, through iterative design and extensive field testing, Roddie Inc. has been able to achieve this goal and want to pass that success on to our clients.