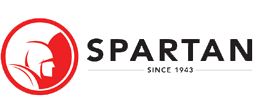 THE BEGINNING
Since 1943, Spartan Tool has been manufacturing sewer and drain cleaning equipment for you, the professional user. Originally located in Chicago, Spartan moved in the 1950s to Mendota, Illinois. After a fire destroyed the manufacturing facility there, we moved to a manufacturing facility in Mishawaka, Indiana. In 2015 we moved to our current plant in Niles, MI. Spartan has been part of Heico Holding, Inc.–a multi-billion dollar privately held manufacturing company based in the Chicago area–since 1978.
TOP QUALITY, BUILT TO LAST
At Spartan Tool, we pride ourselves on producing innovative products that solve the problems of the drain cleaning market. We focus on safe operation, customer service, and equipment that pays back dividends over years – even decades – of operation. Assembled at our manufacturing plant in Niles, Michigan, Spartan products are engineered for extraordinary durability, reliability, and ease of use.
MANUFACTURING MARVELS – SPARTAN TOOL
From the beginning, Spartan Tool has focused on selling directly to the end users of our equipment. Today, we have dozens of Territory Managers throughout the United States who routinely call on drain cleaners, plumbers, maintenance staffs, municipalities, and other customers.
PROFESSIONAL-GRADE EQUIPMENT FOR TOUGH CUSTOMERS
Our Territory Managers will come to your door with equipment and parts, ready to determine your needs and answer any questions you may about equipment, training, and repairs. Our Field Service Technicians make sure your equipment continues to run at peak ability. They will come to your shop to do repairs and preventative maintenance on your Spartan equipment. Our direct-to-the-customer, consultative selling approach has made us especially aware of the challenges and opportunities our customers face in the drain cleaning market. The result? Durable, professional-grade equipment for tough customers.