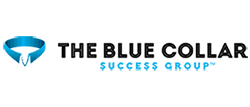 The Blue Collar Success Group

About The Blue Collar Success Group and How We Help You Succeed
We are the premier training and business development organization for the in-home service industry in the U.S., Canada, and Australia. Regardless of your size, budget, or goals, we have the tools and solutions that will help you reach (and exceed) your goals. Whether you simply want to add another truck or strive to be the biggest in-home service business in the country, we can help make that happen.
Our collective goal is to make a difference in the lives of individuals in in-home service industries, from owners/entrepreneurs to technicians and everyone else involved in the company's welfare.
What We Do
We help owners and accomplish their goals through coaching and training. We work directly with your techs, dispatchers, CSRs, sales staff, and managers through live interactive training. We coach owners from a tactical and leadership angle. This two angle approach helps owners who feel stuck or those that are looking to go to their next level in business. We focus on growth and profitability. We meet you right where you are at and help guide you to the goals you want to achieve. All of our coaching is custom…no more of the book answers and tactics. Every market, owner and situation is different and that is what makes us so different.
Are you thinking of selling or closing your home service company? Hold on!
We can help you. Implementing our proven strategies and joining a community of like-minded business owners as yourself may be exactly what you need before you decide to throw in the towel.
Who We Serve
Our clients and members are progressive in-home service contractors who understand life and business are much better when they aren't trying to figure things out alone. From a one truck operator to multi-location, multi-trade, multi-million dollar contractors we can guide you through navigating the waters of the service industry.