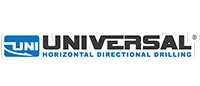 Our headquarters
With leading position in engineering and production of custom horizontal directional drills and equipment, we are continuing our growth strategy with the new models and product lines at the new state of the art facility. The great demand from the global market of our equipment, our old facility has reached the limit of its capacity with regards to the production capacities and technological innovation. It was therefore clear that it would not be possible to continue expanding our product line. A new production site which would meet the requirements of the brand name Universal HDD had to be found.
For Universal HDD the philosophy of creating highest quality equipment and services is not enough. We must continue to push the limits of the industry. In our new home we prove that we have done so since the opening in the year 2006.
The new assembly plant incorporates the latest advances in construction equipment manufacturing as it aims to meet customer needs and expectations. Modern, modular manufacturing allows flexible, demand-orientated equipment production. In close collaboration with well-established service providers, the production process can be dynamically adapted at any time to meet current requirements. Moreover, modular production improves quality as well as reducing costs.
Universal HDD remains to be the leader in design and manufacture of custom horizontal directional drills and equipment. We introduced new line of rigs: UNI 23×36, UNI 80×100, UNI 110×120, and UNI 250×400. These drills feature the most advanced technology in the industry, while maintaining the simple design, high productivity and reliability. Today, more than ever, we are committed to utilizing every resource, to provide the highest quality products and to push industry\'s standards.