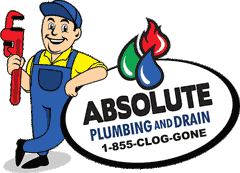 Absolute Plumbing and Drain
The Most Trusted Plumbing Company in Concord, CA, and Surrounding Areas
Absolute Plumbing and Drain, a Diamond Certified Company, offers a wide range of services to residential and commercial clients in Contra Costa County, Solano County, and parts of Alameda County. The company has the in-house capabilities to handle everything from underground construction work including trenchless sewer line replacements, storm drains or French drains installations to renovation projects like kitchen and bathroom remodels. As well as install and repair everyday plumbing services from fixtures, water filtration systems, and water heaters.
Absolute Plumbing and Drain communicate with its customers throughout their projects and takes the time to explain every aspect of its work, which Mr. Tehrani says is important for establishing trust. "We always make sure our customers understand what we're doing and how they can avoid similar issues from happening in the future. We draw upon our years of experience to provide them with the best possible service, and they really appreciate that."
COMPANY PHILOSOPHY
"We treat our customers like people, not dollar signs. We know how stressful it can be to have plumbing problems, so we're dedicated to providing every customer with high-quality service at a fair price, regardless of the size or scope of their job."
Contact Our Plumbing Company Today!
Plumbing can be a very dirty job, and our service technicians are not afraid to get dirty. Our technicians are prepared to handle any job you can throw at them, from simple leak repairs to underground plumbing. All of our technicians are certified and have had background checks, so you don't have to worry about who you're inviting into your home or business. Finding a good plumber is difficult enough without having to worry about their trustworthiness. All of our technicians want nothing more than to get your plumbing back on track so that you can stop worrying and get back to your life. Contact us today at 925-676-1900.
Evangeline Shkidt

Ryan C was very professional and did an exceptional job installing 3 toilets in my home. Ryan and Roberto worked as a great team and completed the job in less than 2 hours. I will definitely use Absolute Plumbing again!!!! Thank you!
Robert Draeger

Ryan adhered to all Covid precautions. Personable and friendly. Went above and beyond by obtaining additional parts to complete job.
Alex Bayardo

Larry was great. Quick and straightforward and honest. He took a few minutes out of his own time after paid to give me a few helpful tips to avoid future clogged drains.