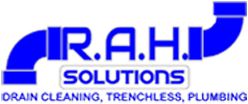 RAH Plumbing Solutions LLC
R.A.H. Plumbing Solutions
Trenchless & Drain Cleaning Specialists — Providing you with integrity, quality, and value for all of your plumbing needs!
R.A.H. Plumbing Solutions is a family-owned and operated business serving residential and commercial customers in the upstate South Carolina area for 5 years. We value integrity and quality to offer you a stress-free plumbing experience. We take pride in our work and are ready to handle all of your plumbing and drain cleaning needs.
Schedule Pipe Repair Services & Trenchless Plumbing in Spartanburg, SC
Learn how we can help you, call today!
Cured – in ​- Place – Pipe (CIPP) lining is a method of trenchless plumbing rehabilitation and restoration used in the repair of existing pipes. CIPP lining uses a textile liner tube and a liquid resin. The liner is inverted, using air pressure, into the preexisting pipe, essentially creating "a pipe within a pipe".
Able to lie many types of pipe including clay, cast, ductile, and PVC
Can line pipes sizing 2in-12in. in diameter
Broken, cracked, or missing sections are able to be re-lined with little to no excavation. Meaning there is only MINIMAL down time to home or business
Capabilities to reinstate taps or branches that may feed into the pipe being lined
All materials are ANSI/NSF approved and certified by the International Plumbing Code
All of this is possible with little to NO digging involved
Out products have a 10 YEAR MANUFACTURE WARRANTY AND 50 YEAR LIFE EXPECTANCY
CIPP Point Pipe Repair Services
A point repair is a method of CIPP lining where we use the same lining materials as the standard CIPP install but we do it in a smaller section. This type of pipe repair is ideal for those broken or cracked spots that need to be repaired, instead of having to line the whole length of pipe. Therefore saving our customers money on pipe repair services.
HOW DOES CIPP LINING WORK?
Backed-up drains can become nasty problems. If you have a problem with your pipes, R.A.H. Plumbing Solutions can use trenchless plumbing solutions, such as CIPP lining, to restore your plumbing system.
CIPP lining is designed to restore blocked or leaking pipes. This process works by…
Inserting a CIPP lining into your existing pipes
Pushing the lining through your piping system
Mixing resin into the liner to attach the liner to your pipes
Once the CIPP liner attaches to the walls of your pipes, it will act as a new pipeline.
For more information about this process or our trenchless plumbing solutions, reach out to our team in Spartanburg, SC today.
Josh Clinton Spencer

Great service, fast, professional, and highly recommend Bud and his company for any of your plumbing or drainage issues. He saved me a significant amount of money, work, and yard damage with my sewage drain
Mona Lee

A big thank you to RAH Plumbing. Bud Did a great job fixing the water leak and installing a new line for my dad. Thank you Bud!!
Rick Bynum

Highly recommend these guys. Called with a drainage problem on Saturday night and Bud Offered to come out right away. Showed up, was very professional and knowledgeable. He figured out what was going on and had us back up and running in no time