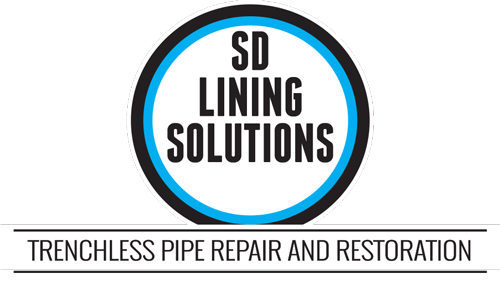 At SD Lining Solutions we restore and fix any underground pipe without digging it up.
Trenchless Pipe Lining
Pipe Problems? Don't dig up your floors and tear out your walls to replace bad drainage pipes. Pipe Lining is a minimally invasive, cost-effective and environmentally friendly way to rehabilitate your existing pipes without the mess of conventional repairs. Contact SD Lining Solutions today to find out more!
Benefits of Trenchless
No Digging or Destruction
Save 30%- 40%
Environmentally Friendly
Preserve Interior Finishes
Increased Flow Capacity
No Hazardous Waste
50 Year Life Use
Fast Repairs
What is Pipe Lining?
In short, Pipe Lining is accomplished by inserting an epoxy saturated felt tube into the pipe, inflating it and letting it cure in place. After the liner has cured, the result is a brand-new pipe within the old pipe. This new inner-pipe has a 50 year life use expectancy – that's almost double the life use of cast-iron.
If you're looking to get your plumbing issues resolved, we welcome your call or email! Please contact us anytime to setup a free – no obligation estimate.
Alex Gutzmann

Ben from SD Lining Solutions is a pros pro. We were in a unique situation where we needed relining done ASAP. Ben worked around his extremely busy schedule to fit us in. He worked with insurance and gave us a great deal. Quality of work was outstanding and they were able to quickly solve our problem. Ben, Moe, and the rest of the crew were great to work with, highly recommended! Great business, great people!
Butte Subaru

These guys are pros and really know what they are doing. It's one of the best decisions we ever made. We have now have pipes that are better than new. And no more calling a plumber because we have a backup because of tree roots or clogged drains. Not only are they super nice, they explain everything they do and why. Just look at the pictures and you'll see why you need to call them too. Plus they fixed some of our other plumbing issues in the laundry room. And the bill was not over the estimate which is always a plus.
Melissa Schmidt

Definitely recommend. Professional, quick, and great service. Besides being professional, they are just plain nice. Really liked working with Ben. He'll really work with you to get you what you need. Reasonable cost for the great work you are getting, AND we didn't have to tear the house apart to fix what ended up being a whole system of really bad cracks all throughout a main pipe.