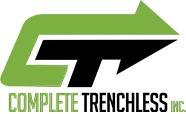 The Top Provider of Trenchless Services in Seattle and the entire state of Washington
Every homeowner and business owner should know a good company when it comes to dealing with trenchless sewer repair in Seattle, WA, and the surrounding areas. Complete Trenchless is that company and we are the experts to turn to when any customer finds themselves needing sewer repair services in the local area. Our goal is to fix the pipes underground and make sure that they are working correctly for the water to flow through.
Why Choose Us Complete Trenchless
At Complete Trenchless, we understand that our customers are looking for the best company to handle their water line repair in Seattle, WA, and the surrounding areas. We believe in giving our customers affordable and upfront pricing. Also, we will explain to the customer the process of what we are about to do to solve the problem. Being honest and showing integrity is important when it comes to offering a comprehensive service such as a trenchless sewer replacement.
Directional Drilling Company in Seattle
Complete Trenchless, a registered side sewer contractor, leads the way in innovative underground construction solutions for residential and commercial business property clients in the greater Seattle, Washington area. The experts at Complete Trenchless provide high-quality water line and sewer line repair and installation at affordable rates. We rely on advanced diagnostics and trenchless technology to minimize disruption to your property, shorten the time for repairs to be completed, and achieve better results.
Steve Dahl

They were very professional: helpful on the phone, showed up when they said they would and despite telling us that they thought we needed to replace when we were on the phone, when they got to the house, they recommended repair. Completed it the same day. We were very pleased.
Christine Lenfant

Cesar and his crew were AWESOME! The job was WAY harder than what they had anticipated. They had to drill over 1000 feet to install a correct water line to the house that was 3' deep. They ran into rocks which made the drilling very difficult. What they thought would be a one day project turned into a 4 day project. They showed up with positive attitudes and smiling faces. I would refer them to anyone. You can't go wrong with these guys :)
Phil Kasin

I hired Complete Trenchless to install a new water line from the meter to my house (under my driveway). They gave me a bid one afternoon and came out the next day to do the work. The work was great - it passed City inspection the first time - and they did it for a great price. I would definitely recommend them.